Having your own baby certainly brings out your inner child. I was remembering the days when my sister and I used to whiz around the grandparents garden in our pedal car and particularly the 'bang' sound it made when driving it into the garage door! I of course want my little man to have all these experiences too so I have been checking out some ride on toys. There is some very cool designed toys for the little ones. Check out these few that I have put together..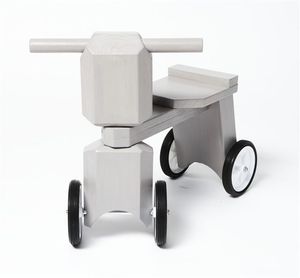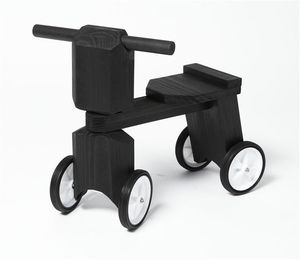 'taiKa' are handmade by Australian Daniel Rollston who was heavily influenced by his Finnish grandfather's woodworking skills. When Daniel's son was born he wanted to create similar wooden toys that he had grown up with. The bike comes in four finishes - Black Woodstain, Black Chalkboard, Silver Birch or Natural.
My son's father and grandfather are heavily into mountain bike riding so it is inevitable that he will own a bike before too long! I am surprised he doesn't have one yet! I think these balance bikes are not only very cool but also very beneficial to helping children learn to ride without the use of training wheels.
Playsam produce beautifully designed objects in timber that are not only for children but adults alike. This is the very stylish Saab Roadster.
Sirch is a German company that specialise in steam bent plywood ride-on toys. Another fine example of how lovely timber-made toys are. This is the 'Sibis Max and Lorette' ride-on car with trailer.